Who doesn't love a crisp, crunchy biscotti? Commonly enjoyed with coffee or another hot beverage by those all over the world, biscotti is widely available in a variety of tasty flavors. Here at Italian Bakery of Virginia, we like to stick to the classics. Using old family recipes and only the finest ingredients, our experienced bakers handmake each batch of biscotti to perfection.
But where did the idea of biscotti come from? A tasty treat that's signature dry, crunchy texture comes from a twice-baked cooking process—who was the first to attempt this and why?
The history of biscotti and the Roman Legions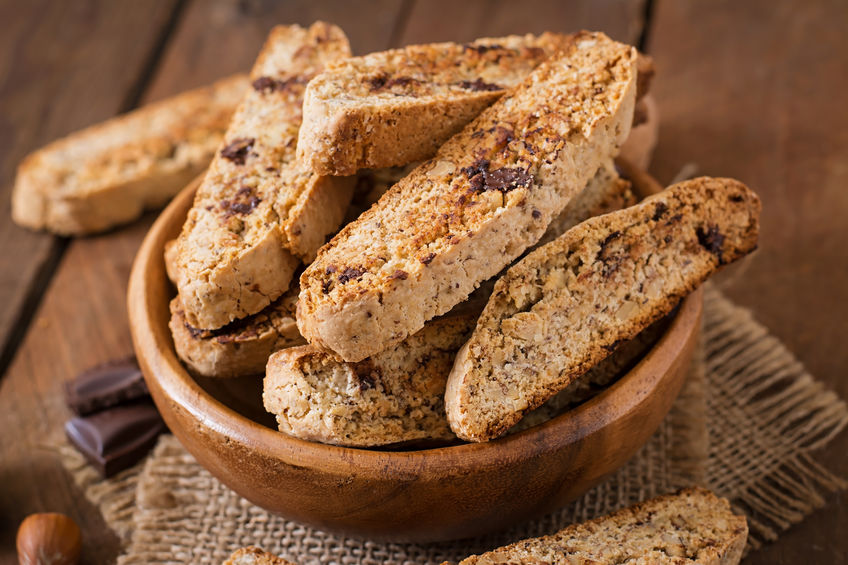 Much like the origins of fruitcake, biscotti was first created to be a long-shelf-life food for Roman Legions to carry during lengthy battles. Because biscotti was intentionally rock-hard in texture, there was no risk of it becoming stale or inedible, and the original almond flavoring gave much needed nutrients to the soldiers. While almond is still a popular flavor option for today's variation, we think it's safe to say biscotti has come a long way since the Roman age. Over time, the rock-hard treat has evolved into less of a means to an end and more to an after-dinner indulgence.
Biscotti After the Fall of Roman Empire
After the fall of Rome and the country's repeated invasions, Italians endured what is commonly referred to as "the Dark Ages," throughout which they did their best to simply survive. As such, there wasn't much culinary growth until the Italian Renaissance. It was then that Tuscan bakers took the age-old biscotti and transformed it into something that could be enjoyed rather than tolerated. This was much like the biscotti we enjoy today, though Tuscans preferred to dunk their biscotti in a local sweet wine known as Vin Santo rather than a cup of cappuccino.
Biscotti vs. Cantucci di Prato
What's the difference between biscotti and cantucci? Ultimately, nothing but a name. As the birthplace of biscotti (as we have come to know and enjoy it), Tuscany and the small city of Prato within it (where almond groves are abundant—hence the traditional almond flavor) refer to this twice-baked cookie as cantucci. To Italians, the word biscotti is just a generic term for any type of crunchy cookie. At the end of the day however, if a Prato native strolled into the Italian Bakery of Virginia, they would point to our display of biscotti and ask for a cantucci. No difference.
No matter what you call it, what your flavor preference may be, or whether you enjoy it with a cup of coffee or a glass of Vin Santo, one thing is for certain. Biscotti is a delicious treat that has withstood the test of time. Stop into the Italian Bakery of Virginia and pick up one in every flavor today!